Monsanto Tribunal, a Milestone against Bayer-Monsanto merger?
Bayer wants to take over Monsanto and offered 62 billion euros. Monsanto said no, but both companies are now negotiating behind closed doors. When BAYER's CEO Werner Baumann told the German press: "We are aware of Monsanto's reputation," and "As I talk to our investors in order to convince them of our venture there will also be an offer for talks to environmental activists and other NGOs." The offer was accepted by four members of the organising committee of the Monsanto Tribunal, as they asked Bayer, questions like: "Will Bayer AG correct the ongoing damage and long-standing legacy of pollution created by Monsanto after the take over?" in a letter. So far Bayer only managed to respond with a very general answer.
Read the letter to Bayer here.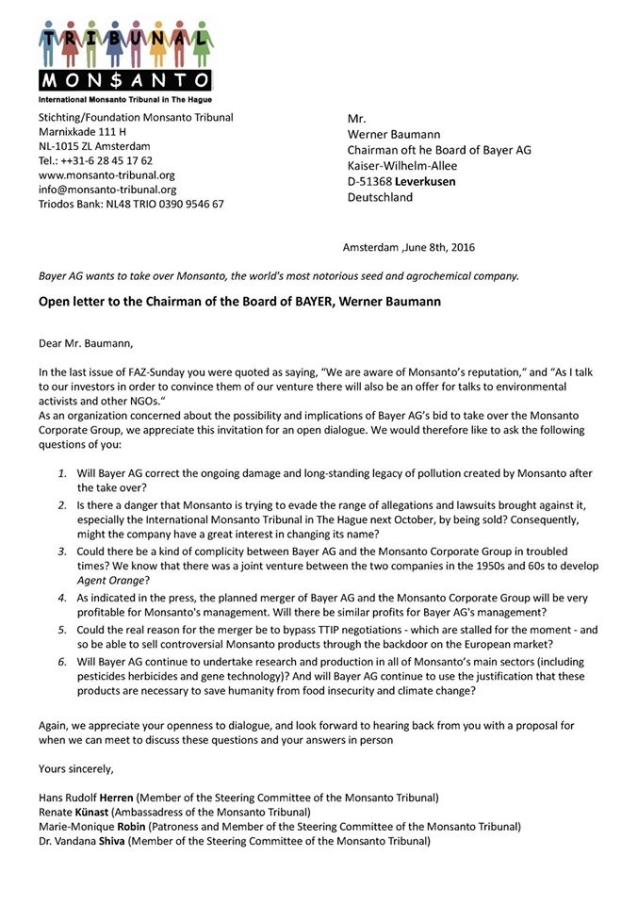 Next thing to happen was a Press Conference by the German organisations NABU (Nature Protection Union), Navdanya (Vandana Shiva), IFOAM International and the Coalition Against Bayer Dangers CBG, end of June in Berlin. They said: "We all agree the Monsanto Tribunal in October will be a milestone in the resistance movement against the monopoly interests by the giant corporations Monsanto and also Bayer."